The rate of monthly rental price increases for both single family rental properties and multifamily rental units trailed the consumer price index (CPI) and wage growth in the first quarter of 2023, according to data compiled by Beekin and analyzed by CJ Patrick Company. While the CPI rose 5.8% from Q1 2022 to Q1 2023, rents on multifamily rental units rose by only 3.34% and declined on single family rental properties by 2.72%.
Of the 74 single family rental markets included in the analysis, only one – Savannah, GA – had a year-over-year increase higher than the CPI. Slightly more than 75% of the 174 multifamily markets analyzed showed rental prices increasing at a slower rate than the CPI.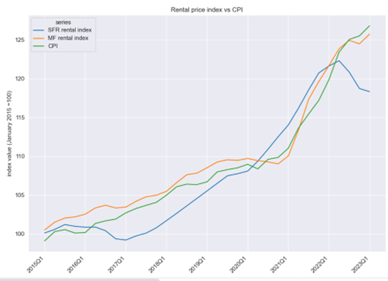 Similarly, only six of the single-family rental markets saw rates increase at a faster pace than the 4.30% year-over-year wage growth reported by BLS in their preliminary report of average hourly earnings of employees on nonfarm payrolls. The multifamily market was more evenly divided, with 76 markets having rental rates increasing more rapidly than wages and 100 markets where wages grew more quickly than rent.
"Today's report provides some good news for prospective renters," said Vidur Gupta, Founder and CEO of Beekin, a data analytics company. "Rate increases on rental units have slowed down considerably over the past year, and in many markets are actually lower than wage growth, which means improved affordability. This is particularly true in the single-family rental market, where list prices have declined slightly on a year-over-year basis."
"Since housing costs – rental rates in particular – are such a large component of the CPI, these trends suggest better times ahead for the U.S. economy," said Rick Sharga, Founder & CEO of market intelligence firm CJ Patrick Company. "With listing prices for single-family rentals declining slightly and rates for multifamily rental units rising at a much slower pace than a year ago, the probability is that we'll see better inflation numbers in the months ahead."
Single-Family Rental Growth Turns Negative
Year-over-year list prices for single-family rental properties were less expensive than they were a year earlier in 49 of the 74 markets analyzed, and only exceeded three percent growth in eight markets: Savannah, GA (5.91%); Philadelphia, PA (5.75%); San Diego, CA (5.58%): Riverside-San Bernardino, CA (5.53%): Ocala, FL (4.89%): El Paso, TX (4.67%): Myrtle Beach, SC (3.50%): and Jackson, MI (3.26%).
The markets with the largest price declines on a year-over-year basis all had list prices at least six percent lower than 2022 rates: Colorado Springs, CO (-9.75%); Clarksville, TN (-8.90%); Lakeland-Winter Haven, FL (-8.89%); Winston-Salem, NC (-8.88%): Birmingham, AL (-7.40%): Las Vegas, NV (-6.92%): Phoenix, AZ (-6.87%): Punta Gorda, FL (-6.86%); Kansas City, KS (-6.84%): Tucson, AZ (-6.69%): St. Louis, MO (-6.63%): Pittsburgh, PA (-6.09%): and Jacksonville, FL (-6.03%).
"More recent comparisons are showing similar trends," Gupta noted. "Looking at rental listing data on a quarter-over-quarter basis, single family rental rates declined by -0.34% and multifamily unit rates rose slightly by 1.0%. Both of these were lower than CPI growth of 1.04% for the quarter, although the multifamily list price increase was slightly higher than the 0.85% wage growth in Q1."
Multifamily Rental Unit Rates Continue to Rise, but More Slowly
Only eight of the 174 markets included in the Q1 2023 analysis showed double digit year-over-year growth in rental listing prices, with seven of the eight in the South and Southeast: Fayetteville, AR (14.14%); Santa Fe, NM (12.53%); Knoxville, TN (11.13%); Daytona Beach, FL (10.85%); Santa Barbara, CA (10.69%); Savannah, GA (10.58%); and Athens, GA (10.15%).
Meanwhile 14 markets had declining list prices compared to Q1 2022: Clarksville, TN (-21.36%); Bremerton, WA (-5.29%); Winston-Salem, NC (-4.98%): Las Vegas, NV (-3.85%); Wichita, KS (-3.69%); Dayton, OK (-3.44%); Coeur d'Alene, ID (-3.06%); Atlantic City, NJ (-2.82%); Cleveland, OH (-1.52%); Boise City, ID (-1.27%); Spokane, WA (-0.61%); San Francisco, CA (-0.46%); Grand Forks, ND (-0.32%); and Eau Claire, WI (-0.29%).
"It's probably worth noting that many of the markets experiencing year-over-year declines in both single family and multifamily rental list prices are also markets that had the most explosive growth during the early stages of the COVID-19 pandemic," Sharga added. "We've seen similar trends in the owner-occupied housing market, where metro areas like Phoenix and Boise are experiencing declines in both home sales and prices."
Methodology
Beekin used same-store data on more than 12MM unique single family homes and multifamily units, beginning in 2015. Using interpolation methods similar to those used by the Bureau of Labor Statistics for the Consumer Price Index, it was able to infer rent growth at a national, state and local level for over 170 MSAs across the country. Wage data is sourced from the Bureau of Labor Statistics report on average hourly earnings of non-farm employees.
About Beekin
Beekin is a Decision Intelligence platform for rental housing. By leveraging cutting edge AI and data, Beekin's patented solution suites help with underwriting, asset management, and capital markets for some of the largest lenders and asset managers. For more information, please visit beekin.co.
About CJ Patrick Company
Founded in 2019, CJ Patrick Company is a Market Intelligence and Business Advisory firm working with companies in the real estate and mortgage industries. Founder & CEO Rick Sharga is one of the industry's most quoted resources on real estate, mortgage and foreclosure trends and has held executive leadership positions with companies such as ATTOM Data, Auction.com, Carrington Mortgage Holdings, and RealtyTrac. Visit www.cjpatrick.com for more information.
Media Contacts