The next-generation analytics platform for multifamily and single-family investors
Beekin is a next-generation real estate analytics platform. Our solutions allow your organization to outcompete in the market. By leveraging Big Data and AI you can increase NOI, improve resident retention, and maximize asset value.
Beekin has delivered precision, automation, and alpha for some of the smartest real estate investors, developers, lenders, and operators with its intuitive and easy-to-use platform built for multifamily and single-family units. With Beekin, the future has arrived.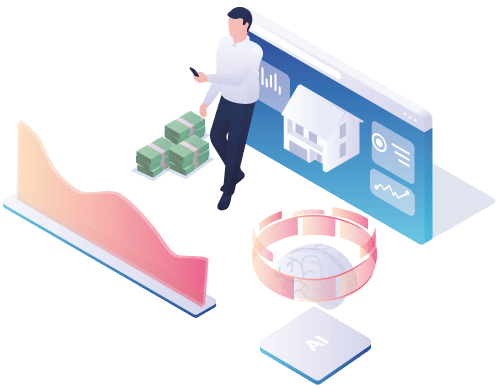 Optimize pricing, predict resident loyalty, measure social impact, and maximize asset values
Optimize rental rates for renewals and new resident acquisition
LeaseMax is an AI-powered revenue management system for multifamily and single-family rental housing investors, developers and operators. LeaseMax aggregates property, neighborhood, resident data, and trends. Using machine learning, our platform learns, predicts, and optimizes rental pricing for new leases and renewals. LeaseMax makes sound recommendations for price optimization for both new resident acquisition and current resident retention, delivering 150% higher renewal rent growth than an industry-leading competitor.
Identify loyal residents and increase retention
WILSON has been proven to give multifamily and single-family operators a competitive advantage by helping to keep their residents happy and in tenancy. WILSON has backtested models with over 70% accuracy, using data aggregated from real estate data companies across 1 million lease outcomes. Use our platform to connect your residents' demographic, behavior, and internal property data. WILSON then measures your vendors' impact on retention and loyalty to predict the best initiatives to increase retention.
Improve resident engagement and measure social impact
PRESI (Property Resident Engagement and Social Inclusion) is a property-level score that leverages factors such as affordability, income, resident engagement. These factors align with the UN Sustainable Development Goals. Our ESG solution informs and benchmarks social impact and identifies properties where renters stay longer, influencing investment resilience by analyzing affordability and engagement.
Quickly analyze rent and make offers
Ebby is a more accurate rental valuation for rental housing delivered electronically. By leveraging transactional data from various real estate data companies, Ebby allows acquisition and asset management teams to synthesize and analyze rent in nanoseconds. Let your transactions team quickly make offers based on predictive automated valuation models.
Very happy with the product. In a crowded market of AI-powered software vendors, there is literally nothing else like this.
Patrick Borchard, CFO of Pangea Properties
Since our launch in 2019, our patented technology has helped optimize over $8 billion of assets, generating alpha for our clients in the tens of millions.